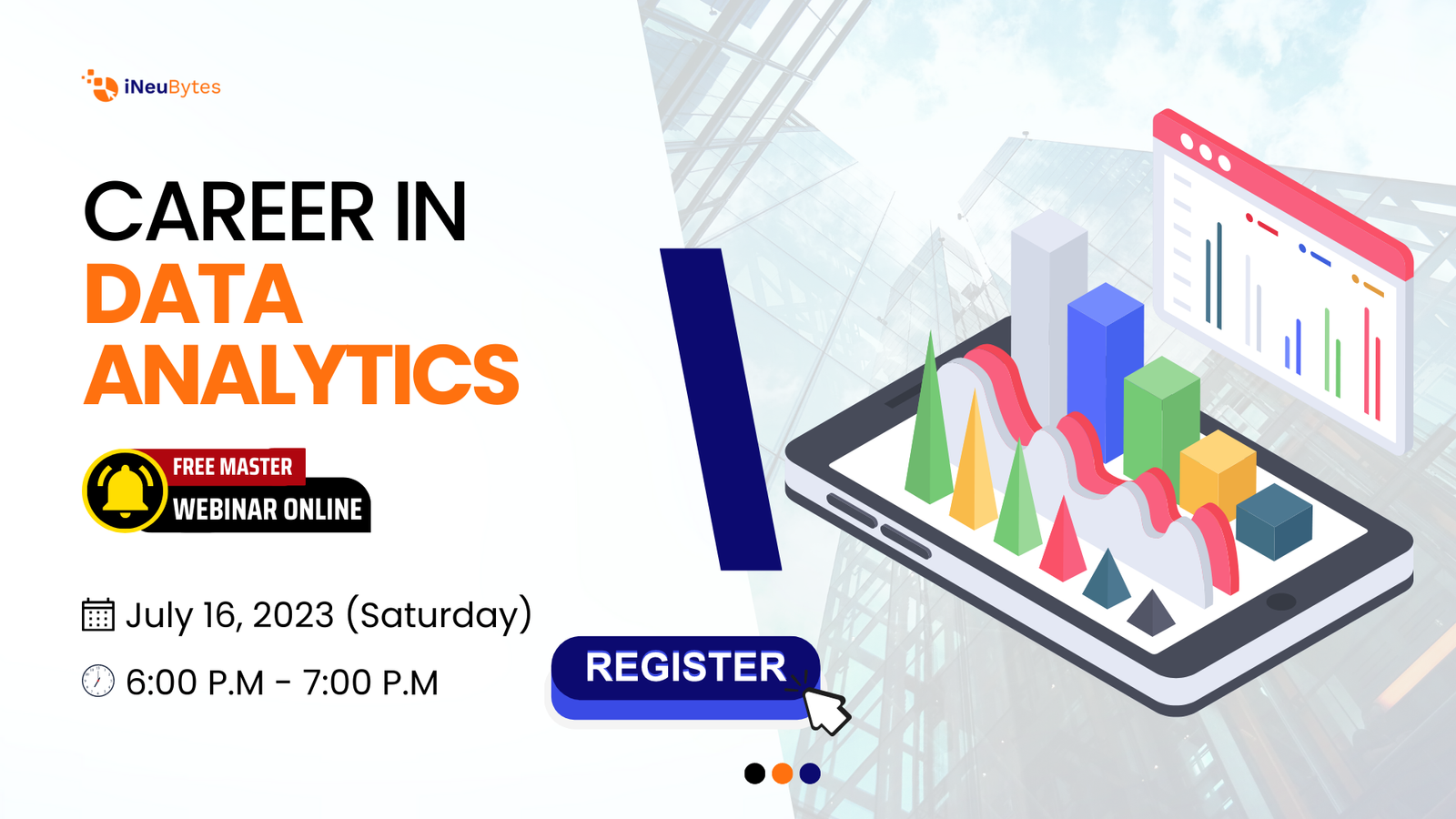 Career in Data Analytics for Beginners
2023-07-16
18:00 - 19:00 IST
---
Certification : iNeuBytes will be issuing certificates to all attendees of the event. Ensure that the certificates reflect accurate information, we kindly ask attendees to be attentive when filling out their registration details. Conditions Apply*
About this Webinar
Are you considering a career in data analytics and looking to enhance your skills in this field? Join iNeuBytes for our upcoming webinar on "Career in Data Analytics for Beginners," where our expert trainers will provide you with a comprehensive overview of the industry and how to excel in it.
Throughout the session, you will learn about the fundamental concepts of data analytics, data preparation, and data visualization. Our trainers will guide you through the process of creating interactive reports and dashboards, connecting to various data sources, and using advanced features to gain insights from your data.
The webinar will take place on 20th May 2023 from 7 PM (IST) to 8 PM (IST) and is completely free to attend. By participating, you will take the first step towards making informed decisions with your data and building a successful career in data analytics. Don't miss out on this valuable opportunity - register now to secure your spot.
Key Learnings on this Webinar
• Overview of the field of data analytics and its importance in various industries.
• Understanding the various roles and responsibilities in data analytics, such as data analyst, data scientist, and business analyst.
• Identifying the necessary skills and knowledge required for a career in data analytics, including statistical analysis, data visualization, and programming languages.
• Tips and best practices for job searching and preparing for interviews in the field of data analytics.
• Guidance on how to build a portfolio of data analytics projects and showcase your skills to potential employers.
• Overview of the salary ranges and job growth potential in the field of data analytics.
• Resources and next steps for further learning and development in the field of data analytics.
About iNeuBytes Master Data Analytics program
The iNeuBytes Master Data Analytics Program is a comprehensive three-month live training program that provides students with a deep understanding of data analytics. The program includes 60+ live instructor-led training sessions and personalized one-to-one doubt resolution sessions to ensure that students have a clear understanding of the material.
Our expert instructors provide a hands-on learning experience that includes real-world projects and case studies to prepare students for the challenges of the industry. Upon completion of the program, students will have the skills and knowledge necessary to analyze data, create data models, and develop visualizations using various data analytics tools.
Additionally, iNeuBytes offers 100% job assistance to help students launch their careers in data analytics. Our career support team provides personalized guidance to help students create a strong resume, prepare for interviews, and connect with top employers in the industry. Join iNeuBytes Master Data Analytics Program today and take the first step towards a successful career in data analytics.