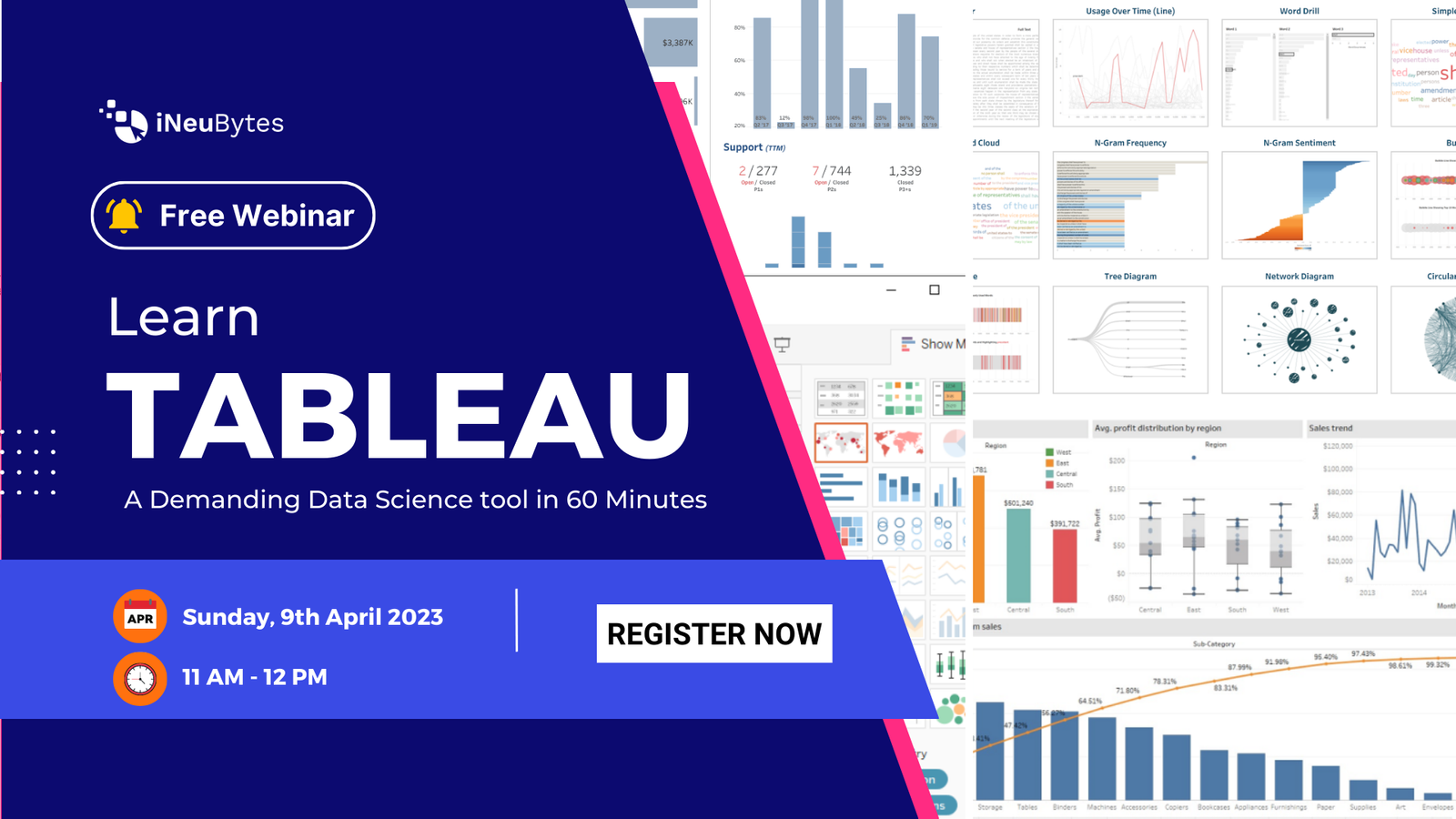 Learn Tableau Tool for Data Science Role under 60 minutes
2023-04-16
11:00 - 12:00 IST
---
Certification : iNeuBytes will be issuing certificates to all attendees of the event. To ensure that the certificates reflect accurate information, we kindly ask attendees to be attentive when filling out their registration details. Conditions Apply*
About this Webinar
In a world driven by data, access to crucial information can make or break any decision. To ensure that you can make the most informed decisions possible, it's essential to have an organized and categorized approach to your data. That's where Tableau comes in - this powerful data visualization and business intelligence tool can help you make sense of your data in ways that were never before possible!
Are you looking to create a dashboard that not only looks great but also provides real solutions to your most pressing questions? Are you passionate about organizing and analyzing data? If so, then you need to learn Tableau from the experts at iNeuBytes! With their guidance, you'll discover how to gather, organize, and visualize data in a way that solves real-world problems, all while staying at the forefront of industry trends and best practices.
Register for free webinar on "Learn Tableau for Data science Role under 60 Minutes" conducted by iNeuBytes on 16th April 2023 from 11PM (IST) - 12PM (IST). Don't wait - sign up for the iNeuBytes Tableau webinar program today!
Key Learnings on this Webinar
• Introduction to Tableau: Overview of what Tableau is, its features, and how it can be used to analyse and visualize data.
• Creating Visualizations: Demonstrating how to create different types of visualizations, such as bar charts, line charts, and maps.
• Dashboard Creation: Explaining how to combine multiple visualizations into a dashboard and demonstrate best practices for designing effective dashboards.
About iNeuBytes Data Science Free Virtual Internship Program
As you embark on your journey in Data Science, you may encounter challenges that hinder your career growth and confidence. Outdated teaching methods and rote learning may leave you ill-equipped to handle real-world scenarios and messy data sets. But don't fret - iNeuBytes has got your back!
Our One-Month Free Virtual Internship Program on Data Science with Certification is tailored to help you master the fundamentals of Data Science. With Micro-assessment tasks and Major Industrial Projects, you will gain practical experience in real-life scenarios. Our program offers personalized 1:1 mentorship from industry experts, structured and guided resources, and continuous career support.
Don't just take our word for it - experience the impact for yourself. Join the iNeuBytes community and become a confident and skilled Data Science professional.