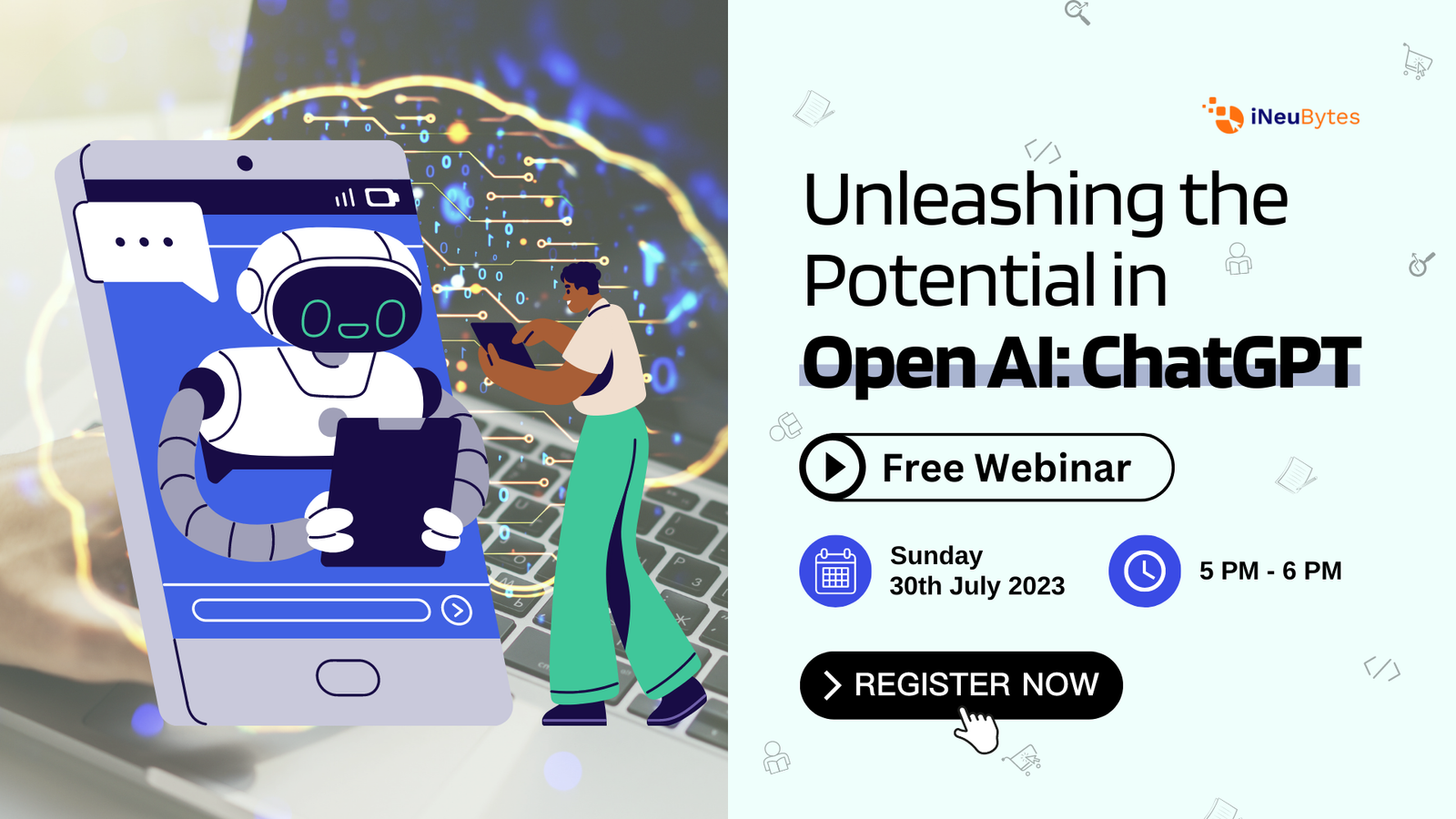 Unleashing the potential of OpenAI ChatGPT
2023-07-30
17:00 - 18:00 IST
---
Certification : iNeuBytes will be issuing certificates to all attendees of the event. Ensure that the certificates reflect accurate information, we kindly ask attendees to be attentive when filling out their registration details. Conditions Apply*
About this Webinar
Unleashing the potential of OpenAI ChatGPT has become increasingly important in various industries such as content writing, learning, coding, ecommerce, and SEO. Join us in this webinar conducted by iNeuBytes about the capabilities of OpenAI ChatGPT and how it can transform the way businesses operate. Our expert trainers will guide you through the process of understanding how to use OpenAI ChatGPT for various applications and help you unleash its potential. During the webinar, you'll learn how OpenAI ChatGPT can help you create high-quality content, learn more effectively, automate coding processes, optimize ecommerce strategies, and improve SEO. Our trainers will share real-life examples and demonstrate how businesses are already leveraging this technology to stay ahead of the curve. You'll also have the opportunity to ask questions and interact with the trainers to better understand how you can apply this technology to your own business or personal projects.
This webinar is a must-attend for anyone interested in exploring the possibilities of OpenAI ChatGPT and its potential applications in various industries. Whether you're a content writer, a student, a developer, an ecommerce business owner, or an SEO specialist, this webinar will equip you with the knowledge and skills you need to leverage this technology for success. Register now to secure your spot and take the first step towards unleashing the potential of OpenAI ChatGPT.
Register for free webinar on "Unleashing the potential of OpenAI ChatGPT" conducted by iNeuBytes on 28th May 2023 from 8 PM (IST) - 9 PM (IST). Don't miss out on this opportunity and take the first step towards unlocking a world of new possibilities.
Key Learnings on this Webinar
• Gain a basic understanding of Power BI and its features.
• OpenAI's ChatGPT has immense potential in various industries such as content writing, learning, coding, e-commerce, and SEO.
• The effectiveness of ChatGPT can be increased by using prompts to guide its responses.
• ChatGPT with correct prompts can save time and resources for business while improving their customer experience and decision-making processes.
• Gain knowledge on the various tools and techniques used to unleash the full potential of OpenAI ChatGPT in various industries.
• Overview of the future of ChatGPT and its potential impact on various industries.
• Q&A session with the experts to clarify any doubts and gain further insights.
About iNeuBytes Free Virtual Internship Program
iNeuBytes is an organization that is committed to helping individuals succeed in the constantly evolving and exciting world of technology. They are proud to offer a one-month free Virtual Internship Program in various courses, including Artificial Intelligence, Data Science, IoT, Web Development, and Digital Marketing. This program is carefully designed to provide hands-on experience in solving real-world problems through micro-assessment tasks and major industrial projects.
The iNeuBytes virtual internship program goes beyond just offering valuable industry experience. Participants will also receive personalized 1:1 mentorship from industry experts, access to guided and structured resources, and continuous career support. This ensures that students develop practical skills and knowledge that will help them succeed in their chosen field.
iNeuBytes recognizes that traditional teaching methods may not always prepare individuals for the rapidly changing landscape of industry 4.0. Therefore, their program is designed to provide a dynamic and engaging learning experience that encourages growth and development. By joining their vibrant community of learners, students can take the first step towards becoming a skilled and confident professional in the tech industry.